Asahi Kasei, a pioneer in flexographic photopolymer plate development, reported it will be attending INFOFLEX 2023, organized by the Flexographic Technical Association (FTA), as a Platinum Sponsor. The event, scheduled for 17-18 April at the Greater Columbus Convention Center in Columbus, Ohio. Asahi Kasei will be located in Booth 331 at the event. Gene Martin, agent for Asahi Photoproducts USA, will speak at the INFOFLEX 2023 Innovation Central Theater explaining Asahi Kasei's sustainability journey and commitments as well as its achievements to date, to inspire others to follow the company's lead. The title of his talk is Accelerating the Sustainability Journey in Flexographic Printing.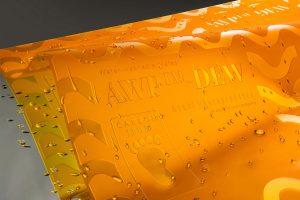 "The Asahi water-washable plate has been in the market for 15 years," Martin said, "and we continue to improve its value to the industry and to the environment. In 2022, our AWP™-DEW water-washable plate achieved Carbon Neutral certification, highlighting the company direction to be come carbon neutral across all its businesses by 2050. Also featured in our booth will be the AWP™ CleanFlat plate, a water-washable FlatTop plate solution with high-quality printing press consistency. I am proud to be able to bring these and other important messages to INFOFLEX on behalf of the company and the flexo community."
At the event, Asahi Kasei will also be introducing two other important developments that are critical elements of its accelerated sustainability journey. These include:
A recently introduced water recycling system which reduces wastewater in flexo plate processing by 75%, a breakthrough in sustainability and water conservation for flexo plate production; and
Introduction of a brand-new solvent plate that can be processed using less solvents, at faster speeds and with drastically reduced drying times. Using this plate contributes to reducing the CO2 footprint of flexographic printing.
"While we believe it is essential to increasingly move production to more environmentally balanced water-washable flexo plates," Martin added, "many companies are still using solvent wash for a variety of reasons. Our new solvent wash plate is a step in the right sustainability direction, not only reducing the volume of solvents used, but also offering faster time to market with no compromise in quality compared to alternative solvent plates."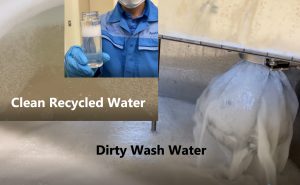 Preserving Precious Water Resources
Asahi Kasei's water recycling unit, targeted for use with larger Asahi plate processing systems, features an innovative filtering system that recycles up to 75% of the water used in plate processing, with only the remaining 25%, in the form of a slurry or sludge, to be disposed of. Forty percent of the additive used in the water wash remains in the filtered water, reducing the amount of additive required for processing subsequent plates. "Fresh water is one of the earth's most precious resources," Yuji Suzuki, Asahi Technical Support Professional, stated. "We chose to develop water-washable plates to eliminate the need for VOC solvents as a bases for the washout solution. But at the same time, we wanted to find a way to minimize the use of that water. This recycling unit does just that."