What do electronic skin patches, thin-film flexible photovoltaics and automotive interior consoles have in common? All are produced using printed & flexible electronics, an alternative approach to conventional printed circuit boards that combines additive manufacturing with flexible substrates. Bringing benefits such as rapid prototyping, improved sustainability, scope for form factor differentiation and even stretchability, printed & flexible electronics is gaining traction across an extremely diverse range of applications.
IDTechEx's new report "Flexible & Printed Electronics 2023-2033: Forecasts, Technologies, Markets" provides a comprehensive overview of what can seem a bewilderingly broad topic. By summarizing IDTechEx's extensive printed/flexible electronics report portfolio and drawing on years of following this developing industry, the report outlines innovations, opportunities, and trends across 5 sectors of the printed and flexible electronics market: automotive, consumer goods, energy, healthcare/wellness, and infrastructure/buildings/industrial. This analysis includes granular forecasts of 50 distinct applications and 40 detailed company profiles.
Additionally, the report outlines developments across multiple underlying technologies: 6 distinct manufacturing modalities (including in-mold electronics and flexible hybrid electronics), 5 material types (including conductive #s and component attachment materials), and 4 component types (including flexible ICs). Multiple recent examples, acquired from interviews and industry conferences, show technology development directions and successful commercialization. Assessments of technological and commercial readiness, along with additional forecasts for manufacturing methods and conductive inks, are also included.
Application opportunities
As with conventional PCBs, printed & flexible electronics has applications across most market verticals. For example, electronic skin patches utilizing conductive inks for electrodes and contacts are already available, as are printed pressure-sensitive insoles for gait monitoring. Conformality lends itself to automotive interiors, where printed/flexible electronics is utilized for lighting, heating and touch-sensitive interfaces. Organic photovoltaics is seeing a renaissance, with recent commercial examples including both building integration and indoor energy harvesting. Sensors based on printed electronics for asset tracking and preventative maintenance promise low production costs novel form factors to suit specific requirements.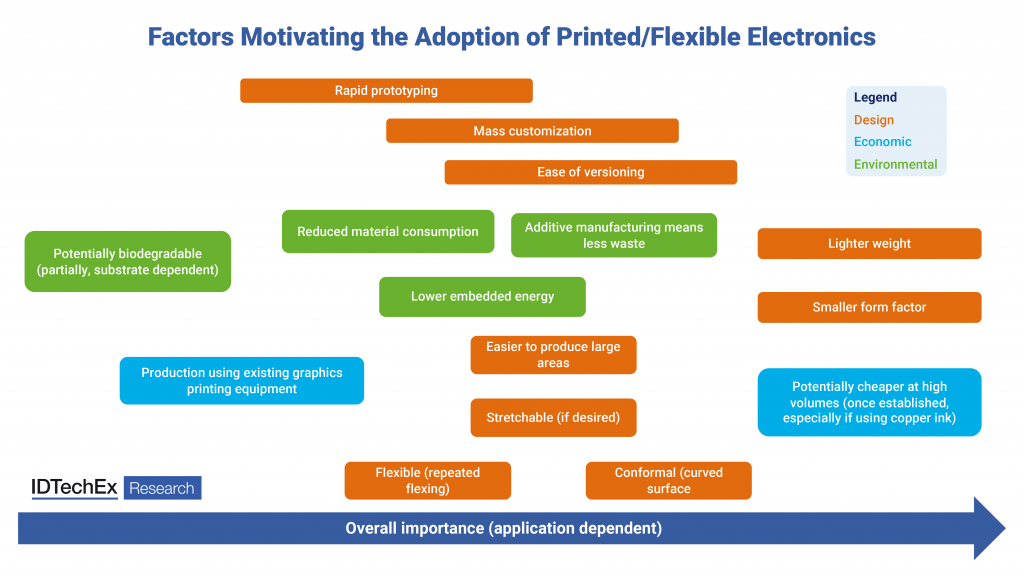 Innovations
Printed & flexible electronics represents a fundamentally different approach to manufacturing, replacing subtractive removal of laminated copper with additive deposition of conductive ink. This reduces waste and facilitates digital manufacturing with the associated benefits of rapid prototyping and straightforward design adjustments. The report evaluates a range of manufacturing innovations and their prospects, ranging from fully additive 3D electronics to in-mold electronics and emerging digital printing methods with resolutions as small as 1 μm.
Material innovations underpin many emerging hardware technologies, and printed electronics is no exception. Conductive inks underpin the technology, with dozens of companies developing inks with a range of compositions and attributes. Viscous silver-flake-based ink for screen printing dominates, but alternatives such as nano-particle and particle-free inks are gaining traction for specific applications such as EMI shielding. An especially notable trend is the development of copper ink, which promises a substantial cost reduction over its silver counterparts. Other specialized materials include ultra-low temperature solder and field-aligned anisotropic conductive adhesives enable components such as LEDs to be securely attached to cheaper, thermally fragile substrates. Furthermore, many sensors require specialist materials, such as printable piezoelectric polymers for vibration sensing and functionalized carbon nanotubes for ion detection.
While the original vision for printed and flexible electronics was to print every aspect of the circuit, including the integrated circuit, this has largely been supplanted by flexible hybrid electronics (FHE), which combines printed and mounted functionality. As such, there is an opportunity for natively flexible integrated circuits, batteries, and displays.
Building on expertise
IDTechEx has been researching developments in the printed and flexible electronics market for well over a decade. Since then, IDTechEx have stayed close to technical and commercial developments, interviewing key players worldwide, annually attending conferences such as FLEX and LOPEC, delivering multiple consulting projects, and running classes/ workshops on the topic. "Flexible & Printed Electronics 2023-2033: Forecasts, Technologies, Markets" utilizes this experience and expertise to summarize IDTechEx's knowledge and insight across the entire field.
To find out more, including downloadable sample pages, please visit www.IDTechEx.com/PE.
Upcoming Free-to-Attend Webinar
Printed and Flexible Electronics: State of the Industry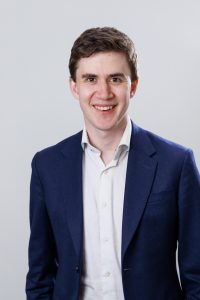 Dr Matthew Dyson, Principal Technology Analyst at IDTechEx and author of this report, will be presenting a webinar on the topic on Wednesday 12 July 2023 – Printed and Flexible Electronics: State of the Industry.
This webinar will discuss the following topics:
An introduction to printed and flexible electronics, including motivating factors
Assessment of product-market fit across the application space, including discussion of use cases seeing most commercial traction
A selection of recent innovations spanning materials, components, and manufacturing methods
A roadmap for how the industry will develop, spanning both technologies and applications
There will be a Q&A session at the end of this webinar, where Dr Dyson will answer a few questions that have been sent in. Please send your questions to a.garrington@IDTechEx.com by Friday 7th July. Please note that there will not be time to answer all of the questions sent in.