Contiweb, a specialist manufacturer of web-handling equipment and provider of integrated technical solutions for web offset printing, web inkjet printing and packaging production, has announced the installation of the first Contiweb remoistener in France at the Estimprim group's ISIPRINT printing plant.
Since February, the Digital Fluid Applicator (DFA) system, sold by Ricoh and installed inline with the RICOH PRO VC70000 web inkjet press, has offered ISIPRINT the possibility of remoistening paper, thereby preventing problems associated with uncontrolled reabsorption of moisture.
With around thirty employees, ISIPRINT specialises in printing, die-cutting and mailing books and magazines in short and medium runs. Olivier Guermouh, Managing Partner of Estimprim and ISIPRINT, explains: "We produce magazines and books for major publishers, ranging from 100 to 1,500 copies. Although our printing is of a high quality, we were looking to improve the finished product, which was affected by the defects inherent in rotary inkjet printing. Coated paper tended to curl or change format slightly, and this was visible on the inside pages which, as it regained moisture, protruded from the cover.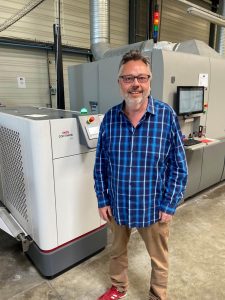 Curling and shrinkage are common problems with web inkjet printing. Drying ink on printed paper requires a high temperature to evaporate the moisture in the ink. But this also causes the substrate to dry out. Paper with a low moisture content is likely to break and crack. And being hygroscopic, it also has a tendency to reabsorb moisture, resulting in curling, wavy edges and variations in format.
After studying the solutions available on the market and observing a European colleague's DFA system, ISIPRINT was won over by the technical qualities and ease of installation of Contiweb's equipment. The DFA was therefore installed inline with the RICOH PRO VC70000 web inkjet press in February.
Compatible with all digital web inkjet presses, Contiweb's DFA mixes tap water with a surfactant (silicone oil optional) and applies it via steel contact rollers mechanically pressed against the paper web. Fabric sleeves around the rollers ensure even moisture distribution and remoistening can be applied independently to each side of the web.
Placed inline between the printer and the rewinder, and directly supplied with running water, the Contiweb DFA is very simple to install. "We then indicate the quantity of water required for a print run, depending on the type of paper and ink load. Very little maintenance is required," explains Guermouh.
"Since we've been using the DFA, we haven't had any problems with humidity. The inside pages retain their original format, and curling has been considerably reduced. We can now offer high-quality colour printing with the RICOH PRO VC70000 inkjet press, without any restrictions on the type of paper we use. Thanks to Contiweb's DFA, we have significantly improved the quality of our products," concludes the printer.