What can the industry do to minimise the ecological footprint of packaging and other printed products?
As a leading manufacturer of knives, knife holders and cutting systems with a 110-year history, DIENES Werke für Maschinenteile GmbH & CO KG from Overath is driving energy efficiency both in its own production and in process solutions for its customers. With Maja Supe-Dienes, the fourth generation is already on board. She is a project manager and working on strategies to make the family business fit for the future.
The leading industrial nations want to have a climate-neutral economy by the middle of the century. Is this goal realistic in your view?
From a technical, economic, and political perspective, this is a very ambitious goal. However, numerous studies show that decarbonisation is possible by 2050 or even a little earlier. Even though, this requires massive investment, political support, and global cohesion. If energy-intensive processes are only relocated to regions with lax climate protection regulation, nothing will be gained.The road will not be easy for companies. The rise in energy costs caused by the Russian war of aggression on Ukraine, inflation, wage increases, and supply chain problems are a foretaste of this challenge ahead. The Companies need quick access to climate-friendly energy and support for efficiency projects to overcome them.
What are you doing to minimise the energy demand of your production?
Our 110 years old history, is characterised by the pursuit of the most possible self-sufficient energy supply and increased efficiency. Our location here is on a river because our founder Karl Rudolf Dienes was able to buy an old mill to supply his knife production with waterpower. In the meantime, we don't use the river anymore generate energy, but we use the water for cooling. Today we rely on photovoltaics. Our newest site is completely energy-optimised, other sites still need to be redeveloped. There are supply chain problems, too: for example, we have been waiting for a frequency converter for months to be able to feed solar power into the grid. We use the waste heat from our machines, from our processes and heat recovery to supply heat to our halls. We are constantly investing into modernisation and automation of our machinery to make our production more energy-efficient. We have also purchased employee e-bikes and installed charging stations for electric vehicles.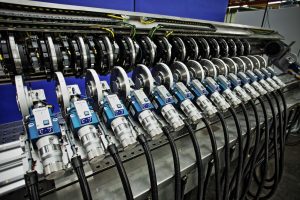 How do you support your customers to become more energy efficiently?
By offering very durable, repairable, and recyclable knives and integrating them into increasingly smart, sensor-monitored cutting systems. This always ensures the most efficient knife setting. It is firmly anchored in our corporate philosophy that we focus on high-quality, durable products and intelligent process solutions. On the one hand, we want to ensure the maximum service life of our knives, which we achieve with our regrinding service, among other things. On the other hand, our knife holders contribute to minimal wear through the sensor-monitored optimal adjustment of the knives. In combination with condition monitoring solutions, this ensures very reliable, high-quality cutting processes. Nevertheless, cutting is usually at the end of the process chain for the customer, clean cuts are very important. A lot of time, energy and resources and correspondingly high value are already invested in the cut products. We have developed an extraction solution for the conventional edge strips so that they can be collected and fed directly back into the manufacturing process as recyclate.
What role does the topic play in your R&D?
We have developed a smart solution – The End of Coincidences (TEoC), which records and analyses machine and process data. We are in the middle of the research and development phase, we learn more about our products and their cutting processes with every new connected machine.
The data enables us to make an increasingly accurate predictive forecast. This will allow us to further reduction of downtime and productivity increase in the future. We visualise the data in dashboards, so that our customers can get quickly an idea of the condition of their cutting system, the quality in the running process. We can also troubleshoot remotely. All this flows back into research and development to further optimise the systems on the basis of such incidents until finally there really are no more coincidences. We also test a lot to make the knives production more energy-efficient. We are exploring if we can also achieve our high quality standards with less energy.
What would you like to see from legislators on the road to climate neutrality?
The global perspective and a harmonised approach are central. So, that no loopholes open up for actors who do not care about climate protection. It can only work if we understand and implement decarbonisation as a joint global project. Incentives and support measures are important for implementation at the corporate level, so that the switch to climate-neutral energy can be made quickly and as smoothly as possible. Additionally, we need measures to adapt to climate change. In the meantime, we often have to deal with extreme temperatures and in river valleys such as here in the Agger Valley, with strongly fluctuating water levels. We have to adapt to this – and it causes costs. Another important point is the planning and approval procedures. We need here a revolution in order to be able to cope with the huge challenges in the remaining time. This leads us back to the initial question. With today's planning and approval procedures, decarbonisation by 2050 is not realistic – and our business location is endangered.