Registering to the tune of 1,200 participants, the sixth PRINT & DIGITAL CONVENTION drew to a successful close confirming its status as one of the most relevant industry meetings in the field of communication and packaging industries. Its success formula: an exclusive circle of some 70 renowned exhibitors, including Canon, FKS, Horizon, Konica Minolta, KURZ and Xerox, that convinced delegates with their creative solutions and exhibits, as well as 47 high-calibre speakers, who shared their expertise and insights in a total of 38 lectures.
"The PRINT & DIGITAL CONVENTION is an absolute heart and soul project. We are proud to see how this format has developed over the past few years," explains Rüdiger Maaß, Managing Director of f:mp, and goes on to say: "Our great thanks go to the exhibitors, speakers and partners who consistently drive the concept in constant exchange with us. We are also particularly delighted with the approximately 20% new exhibitors, who not only enhance the ranges for our visitors, but have also provided many new ideas and impulses."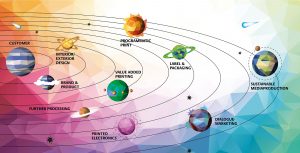 Knowledge hub and in-depth networking
The unique concept of this congress trade fair once again made for a communicative and busy atmosphere at the Düsseldorf Stadthalle and for in-depth networking and high-calibre knowledge transfer at the exhibition stands and in the lectures. In addition, it provided exciting insights into innovative practice-driven solutions for print and packaging applications.
"Here brand owners, agencies and media producers find concrete solutions allowing them to efficiently implement their marketing strategies," explains Sabine Geldermann, Director drupa, Printing Technologies Messe Düsseldorf. "The PRINT & DIGITAL CONVENTION also convinced attendees this year again with its strong practical slant, concrete applications and the comprehensive know-how conveyed in the talks. This success shows us that we are on the right track and our themes and ranges strike a chord with the sector." Ranging from digital transformation and print in a modern marketing mix to sustainable finishes, the latest topics, trends and views were discussed.
The Highlight Guide: applications and solutions that "wow" users
They were among the crowd pullers at PRINT & DIGITAL CONVENTION: nine Highlight Projects were in the focus of many visitors and demonstrated with hands-on applications just what is possible in modern marketing with a perfect interplay of digital printing, digital media technology, print applications and multi-channel solutions. Experts along the entire supply chain had joined forces to implement the Highlight Projects, and specifically developed their cases for the PRINT & DIGITAL CONVENTION in exciting cooperations. Best practices here ranged from finishing options and strategies for brand management to cross-media campaigns.
A project of particular relevance: Sustainable Media Guides
The demand for independent and high-quality information on such subjects as sustainability, environmental and climate protection, circular economy, standards, functions as well as current legislation, is as high as ever. Here the "Sustainable Media Guides", which were officially presented on the two convention days for the first time, will close a gap in the media landscape from now on. This compendium of technical literature specifically edited for this purpose is to become a knowledge base for sustainable publishing. The project sponsors are the Brancheninitiative UmDEX as well as the professional association Fachverband Medienproduktion e. V.; presenting partners are inapa Deutschland GmbH, Canon Deutschland GmbH and drupa/Messe Düsseldorf.

PRINT & DIGITAL CONVENTION @ drupa 2024
The next PRINT & DIGITAL CONVENTION will be held as part of drupa 2024, the World-leading Trade Fair for Printing Technologies, from 28 May to 7 June. On a special area partners of the convention can introduce themselves to the international drupa audience. In addition, the PRINT & DIGITAL CONVENTION will organise one congress day at the drupa cube, the central stage for pioneering content. Likewise, the official Guided Tours of drupa will be organised by the Fachverband Medienproduktion. The focal themes of these guided trade fair tours are sustainability, finishing and Programmatic Print.