Xerox announced it has been named a Leader in Quocirca's 2023 Print Security Market Landscape Report. This annual report provides a snapshot of the positioning of vendors in the Global Print Security market and recognizes the top print industry vendors who offer security solutions as part of their portfolio.
The report also reveals the ongoing challenges organizations face in securing print infrastructure as they adjust to a hybrid workplace. According to Quocirca, despite the ongoing digitization jump fueled by the pandemic, 61% of organizations have experienced data losses in the past 12 months due to unsecure printing practices.
"As cybercrime continues to grow, our clients are looking for solutions to prevent data loss and mitigate security risks. It's more important than ever to enable security solutions for distributed workforces," said Tracey Koziol, executive vice president of Global Offering Solutions and chief product officer at Xerox. "Xerox continues to invest to protect our clients' print infrastructure and data, and we're honored to be recognized by Quocirca as a print security leader."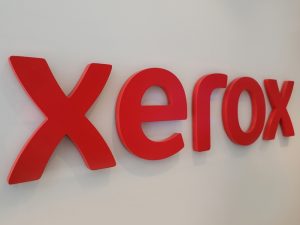 Xerox advanced its leadership position in this year's assessment. Quocirca commended the company for its deepening capabilities across device security, fleet management and content security. Also noted were advancements made in certificate management, firmware management, vulnerability management, security monitoring and automated remediation.
According to the report, "Xerox particularly stands out for its strong legacy in the managed print services sector and expertise in delivering comprehensive security assessments. Its depth of experience and capability in securing and optimizing document workflow processes is among the strongest in the industry."
Xerox has adopted a multi-layered security approach based on a set of Zero Trust principles to heighten security measures for all clients and has filed in excess of 600 security related patents. This approach also makes it possible to interact with various Security Information and Event Management solutions enabling advanced analytics and AI to integrate printer security into organizations broader security systems. Xerox products adhere to a broad range of industry certifications and the company recently created a private bug bounty program in partnership with HackerOne to proactively identify and remediate potential vulnerabilities in its printers and multifunction printers. Additionally, Xerox's security capabilities extend to its cloud services, including Xerox® Workplace Cloud, which enables secure print and fleet management.