24 carton packaging concepts, designed by students studying at universities across Europe, have been shortlisted for this year's Pro Carton Young Designers Award – sponsored by one of Turkey's leading packaging designers, Duran Dogan, and leading cartonboard producer in Turkey, Kartonsan. Additionally, eight engaging and highly creative videos have been shortlisted for the Pro Carton Student Video Award.
Together, over 850 entries were received from institutions from across Europe and judged by esteemed judging panels. Satkar Gidda, former Sales and Marketing Director of SiebertHead; Sanjeev Das, Unilever's Global Packaging Director in the Foods and Ice Cream business; Alican Duran, Managing Director of Duran Dogan and Chairman of KASAD; and Kemal Ozkirim, Marketing Manager of Kartonsan, formed the jury for the Pro Carton Young Designers Award.
The shortlist for the Pro Carton Student Video Award was selected by Simon Bolton, who sits on the boards of esteemed Scandinavian agencies EVERLAND, Kontrapunkt, and Kapero; Bady Minck, and award-winning film director and producer; and Winfried Muehling, Head of Marketing and Communications at Pro Carton.
Industry professionals, academics and the general public are now invited to cast their votes for their favourite projects to recognise this talented next generation of designers and filmmakers.
An evening of celebration in September
The Public Award winners will be revealed at the Awards gala in Seville, Spain on 21 September 2023, together with the winners of other award categories and the prestigious European Carton Excellence Award. The event promises to be an unforgettable evening. It will bring together industry leaders, professionals, and visionaries to celebrate the outstanding achievements and groundbreaking advancements in sustainable packaging design.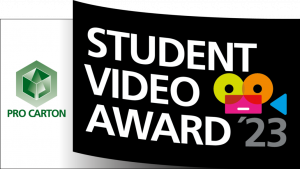 Winfried Muehling, Head of Marketing & Communications at Pro Carton and member of the jury, said:
"The quality of the entries into both the Pro Carton Young Designers Award and Pro Carton Student Video Award demonstrates that the future of our industry is in good hands. The judges for the former award – who represent the entire cartonboard value chain – found it extremely difficult to select a shortlist. Indeed, a number of designers created novel and functional packs that could go on to be used commercially. And the videos we received  showed great skills of  storytelling, using creative techniques to promote Pro Carton's key messages about cartonboard."
Voting is open until midnight on 15 August 2023.
The 24 Pro Carton Young Designers Award Public Award finalists are:
• Bites & Bonds by Ertugrul Unal of Ondokuz Mayıs University, Turkey
• Cone Packaging by Ezgi Zelal Aksan of Bahçeşehir University, Turkey
• Drop. Glue Stick by Nova-Elizabetha Jannes of Die Graphische, Austria
• Floss Roller by Jaume Garcias of Edib Palma, Spain
• Game Packaging by Mia Friis of The Oslo School of Architecture and Design, Norway
• GoGirl by Mia Adele Gyllensten Johansen of Arkitektur – og designhøgskolen i Oslo, Norway
• Kiku 菊 by Giacomo Piffaretti of Instituto Marangoni, Italy
• Kitics – a sustainable make-up brush packaging by Julia Vondracek of Die Graphische, Austria
• Lipstick Box by Orçun Dönmez of Atilim University, Turkey
• "niud" Sustainable Razors by Barbara Gielesberger of Höhere Graphische Bundes- Lehr- und Versuchsanstalt, Austria
• Overwatch by Lukas Ackermann of FH Joanneum, Austria
• Pecchio – lo snack preferito da tutti by Leonor Pinto Félix of ESAD Matosinhos, Portugal
• Recyclable 6-pack Holder For Canned Beverages by Lenart Marovt of Faculty of Natural Sciences and Engineering, Slovenia
• Packaging Mop Mery by Antuan Soto Rodriguez and Pablo de Santiago of Escuela Superior de Diseño de La Rioja, ESDIR, Spain
• PopCap by Emily Klein and Brandon Escalona of FH Joanneum, Austria
• SandKit by Maria Paula Monroy Vargas, Sarah Drauschke and Margo Rindle of FH Münster – MSD Münster School of Design, Germany
• SpiceBar by Sofie Maria Schlein, Irina Kozlova and Leonie Bornhöft of FH Münster – MSD Münster School of Design, Germany
• Stick To It by Maja Gehling, Anika Kubirski and Lisa Werner of FH Münster – MSD Münster School of Design, Germany
• TapOut by Johannes Nyborg Heyning of Arkitektur – og designhøgskolen i Oslo, Norway
• Tekilla Skull by Oskar Miel of Höhere Graphische Bundes- Lehr- und Versuchsanstalt, Austria
• Telescopic Packaging For Watches by Tom Price of University of Leeds, UK
• Twist: Duo by Deniz Ada Akin of Atilim University, Turkey
• UrbanBITE by Nang Htwe Htwe Lwin of Ravensbourne University, UK
• W-Line by Sezin Özbalcı of Bahçeşehir University, Turkey
The eight Pro Carton Student Video Award Public Award finalists – are:
• Cartonella – Carton Brings People Together by Melissa Nedeljkov from Hoehere Graphische Bundes-, Lehr- und Versuchsanstalt, Austria
• Lancelot, The Knight of the Carton by Jules Dubernet, David Botermans, Orpheas Tatakis and Lea Cabrera from Université Lumière Lyon 2, France
• Metamorphosis: A Carton Story by Diana Morgacheva from Università Commerciale Luigi Bocconi, Italy
• Ovo nije moj dom by Uros Stepic from Faculty of Dramatic Arts, Serbia
• The Circle Of Life by Ulrike Rösch, Lea Schneiderbanger, Nele Wolff, Felicia Spiegler and Alina Biesolt from SRH Berlin School of Design and Communication, Germany
• The Pro Carton Hero by Joe Lynch from University of Surrey, UK
• The PROs of Carton by Jasmin Hein and Sofia Rohnefeld from Höhere Graphische Bundes- Lehr- und Versuchsanstalt, Austria
• We Choose Carton by Dorotėja Aidukaitė, Emilija Žiūkaitė, Enya Tarky, Marsh Seintje and Darcy Oostburg from Fontys University of Applied Sciences, The Netherlands