Asahi Photoproducts, a pioneer in flexographic photopolymer plate development, today reported that it has partnered with Royston Labels, a premium and high-quality label manufacturer who has been providing cutting-edge label solutions since 1984. The company is located in Royston, near Cambridge (UK), and boasts a state-of-the-art production facility and a team of highly skilled, multi-award-winning experts who produce in the region of 500 million labels annually. They supply labels to a wide variety of brands and contract manufacturers across many different sectors, including the cosmetics, toiletries, food & beverage, and pharmaceuticals industries. At Labelexpo Europe, Asahi Photoproducts will be showing these label samples to visitors at its stand 5a34 to demonstrate that the future of sustainable label production is available today. Labelexpo Europe is scheduled for 11 to 14 September in Brussels.
Royston Labels has been an Asahi customer for more than five years, using Asahi's AWP™ 4385 plate processor and Asahi CleanPrint AWP™ flexographic plates. The company chose Asahi's products due to the quality they deliver, their ever-increasing sustainability, and the exceptional support Asahi Photoproducts provides to its customers.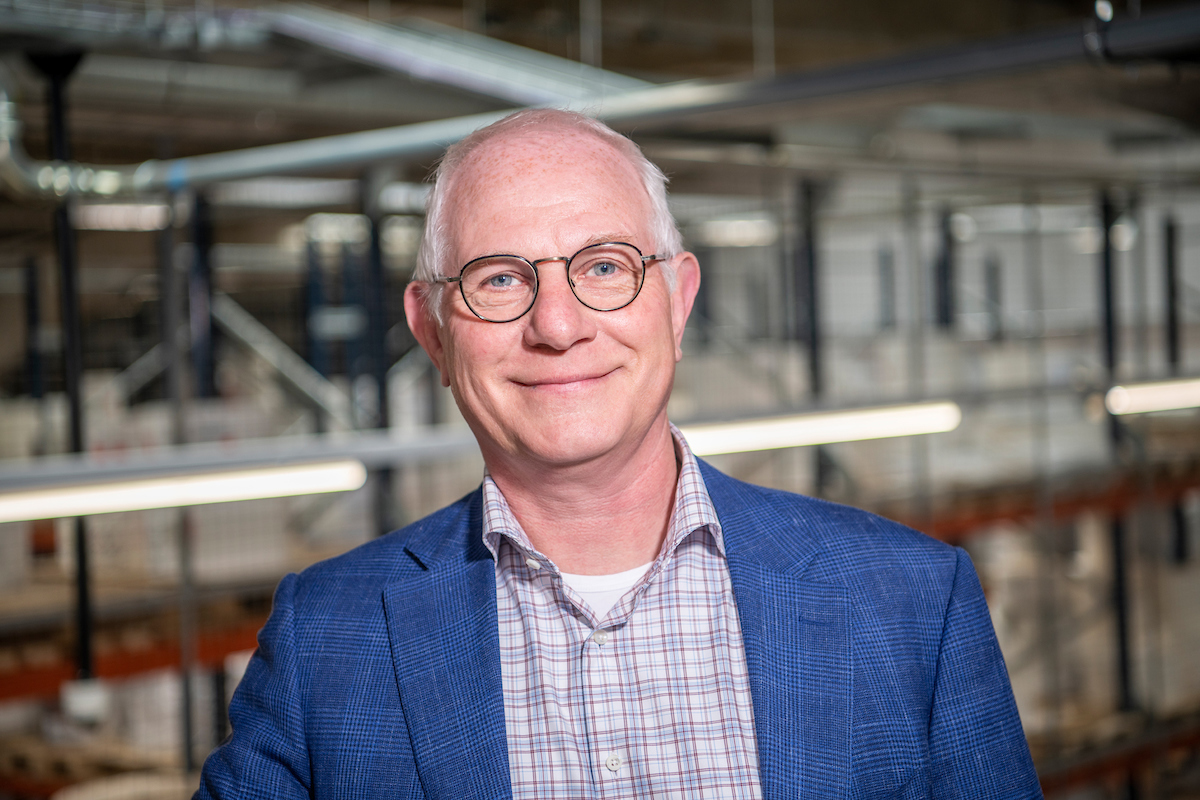 "Our experience with Asahi and its AWP™ product line has exceeded expectations," said Paul Clayton, the company's Managing Director. "We have been able to achieve improved minimum dot quality while at the same time reducing production time and creating an improved, Solvent ZERO working environment with less waste and no harsh chemicals. We are delighted to be collaborating with Asahi on production of a label for Noah, a fictional brand, that will fully demonstrate how companies like ours can reduce their carbon footprint and provide a more sustainable solution to their customers. We created the Noah packaging and label as a complete sustainable solution for personal care brands in the industry. Our aim is to help brands showcase their commitment to sustainability and provide a greener option for consumers. An important added value is the recent achievement by Asahi of Carbon Neutral status in collaboration with the Carbon Trust for its AWP™-DEW water-washable plates, the AWP™-CleanFlat plates being in the final stages of Carbon Neutral certification, helping us to document even further the sustainability of the label solutions we provide."
"Royston Labels has been a terrific customer for us, with a heavy focus on delivering sustainable label solutions to its customers," said Karl Davison, Asahi's Branch Manager for the UK and Ireland. "Our values and goals are 100% in alignment as we both work toward a reduction in carbon emissions and a Solvent ZERO environment for flexographic operations. By producing sample labels for distribution at Labelexpo Europe produced on Avery Dennison's CleanFlake substrate, Royston is further helping to spread the word that sustainable label production is achievable today, and that working together, we can increase the sustainability metrics even more."
Avery Dennison's CleanFlake™ technology ensures that labels and adhesive separate from PET every time, increasing the yields of pure PET flakes. It also delivers excellent printability, clarity, and application performance on all types of packaging. It uses Avery Dennison's next-generation AD CleanFlake™ Adhesive Technology, which is specially engineered to support the recycling of PET and HDPE packaging, making sustainability an easy choice for label producers.
Clayton added, "Our design is born from a responsibility, as creatives, to pursue sustainability in design. Each element of this label is crafted to showcase the technical abilities of sustainable print processes whilst still maintaining maximum visual impact and brand presence. Inspired by nature's beauty and natural textures, this design doesn't just convey elegance, it instils an emotive connection to our natural resources, reminding us of the need to cherish and protect our planet. The Avery Dennison Cleanflake™ technology is endorsed by EPBP and APR for PET recycling and recognised by RecyClass and APR as a monomaterial for coloured HDPE recycling."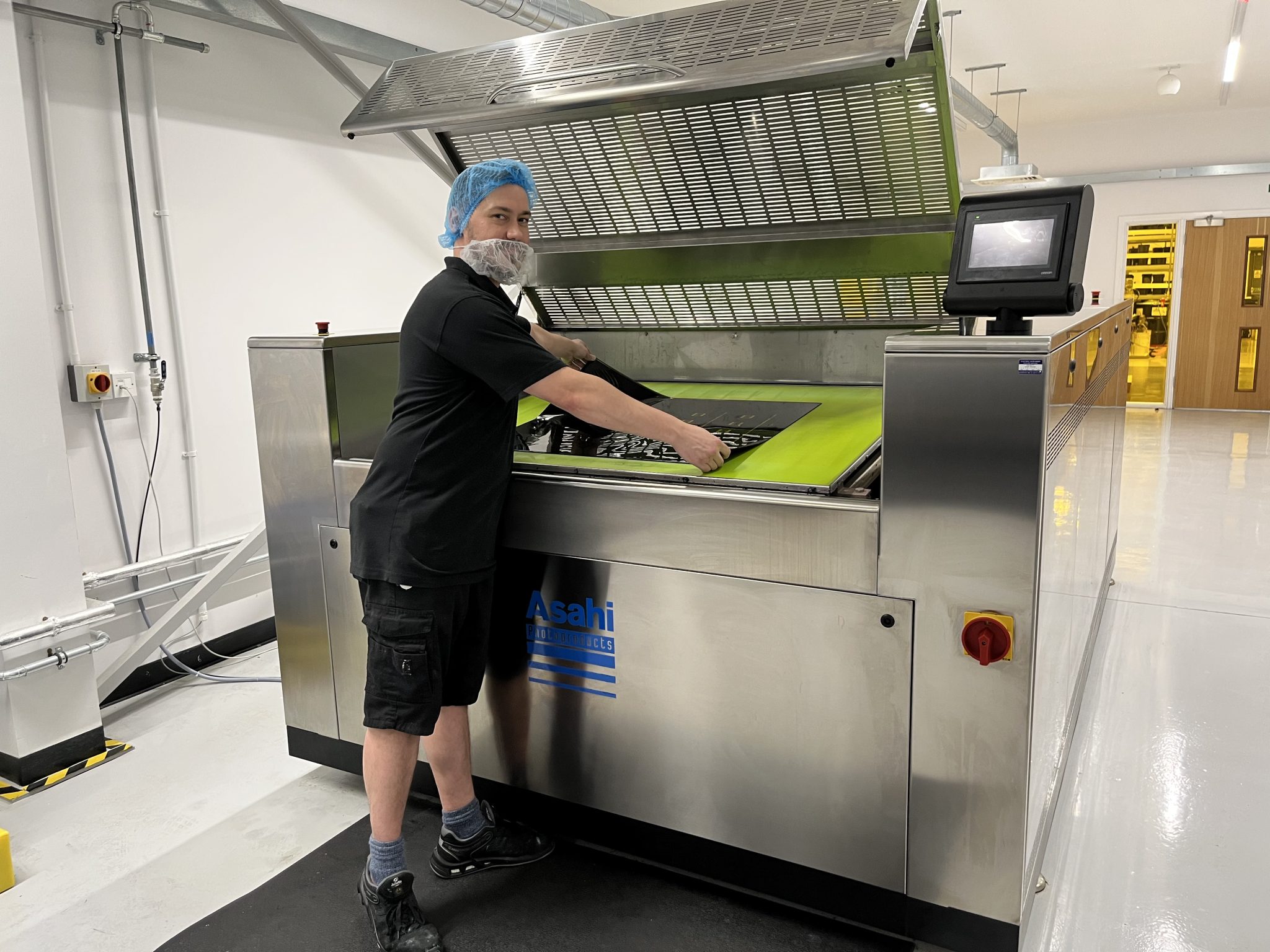 "To deliver the highest quality print and embellishment techniques, we have used UV Flexo and Rotary Screen-Printing technology," Clayton continued. "The ink system is 'Dual Cure', allowing us to cure inks using LED Lamps. Compared to conventional Mercury drying systems, these offer significant power savings and therefore a reduced carbon footprint as far less energy is used during the printing process. To enhance the look of the label we have utilised a High Lustre Silver ink, which we have printed in isolation but also as a base with a translucent colour overprint. We chose this option adding to the labels sustainable credentials and as an alternative to conventional foil. Adding also a gloss tactile varnish to enhance the leaf veins and contrasting this with a rough touch varnish for the leaf itself, this combination helps to create an engaging sensory experience. We are looking forward to the opportunity to share these achievements with visitors to the Asahi stand at Labelexpo Europe."
Asahi AWP™ CleanPrint plates are water washable, supporting the company's Solvent ZERO approach to product development. The AWP™-DEW plates are already certified Carbon Neutral in collaboration with the Carbon Trust and the AWP™-CleanFlat plates are currently in the final stages of the Carbon Neutral approval program. Both plates are designed with sustainability in mind. They reduce waste and environmental impact by minimizing ink and solvent usage and reducing makeready time and waste. And since they are water washable, they eliminate the need for harsh chemicals in the platemaking process.