The six inaugural winners of the Packaging Startup Awards, sponsored by Ocado, were announced at London Packaging Week, with packaging expert and ThePackHub Managing Director Paul Jenkins declaring 'they are the ones pushing the envelope'.
This year's competition attracted an impressive 94 entries from around the globe, spread across six categories. A distinguished panel of 15 judges, comprising brand owners and retailers with lots of packaging industry expertise, rigorously evaluated the submissions before Jenkins and Laura Fernandez, Senior Packaging Sustainability Manager at Ocado Retail, announced the winners.
"It's often the startups and the challenger brands who are leading the way in terms of innovation; they're prepared to take a risk, they have a hunch and an idea, and they go with it," said Jenkins.
"A bigger organisation can often get tied up in bureaucracy, and sometimes big ideas just don't go through the system. What I've noticed about the smaller businesses in the Packaging Startup awards is the variety of entrants we've had in terms of demographics: their age, where they're from, and their previous backgrounds. These people don't often have a background of 30 years of packaging experience. They are often new to the industry; they come up with a new idea and want to do something about it. Hopefully, these awards give them a platform to share their vision and take their ideas to the next level – which is potentially getting onto the shelves somewhere."
Australian keg rental company Konvoy Group, whose platform Konvoy Cloud allows customers to monitor the freshness of beer keg fleets throughout their life -cycle, offering transparency and traceability, scooped the Connected Packaging Award.
Releaf Paper, a Ukrainian company that extracts cellulose fibres from fallen leaves to make paper packaging,  was rewarded for its dedication to sustainability and innovation and took home the award for Alternative Materials.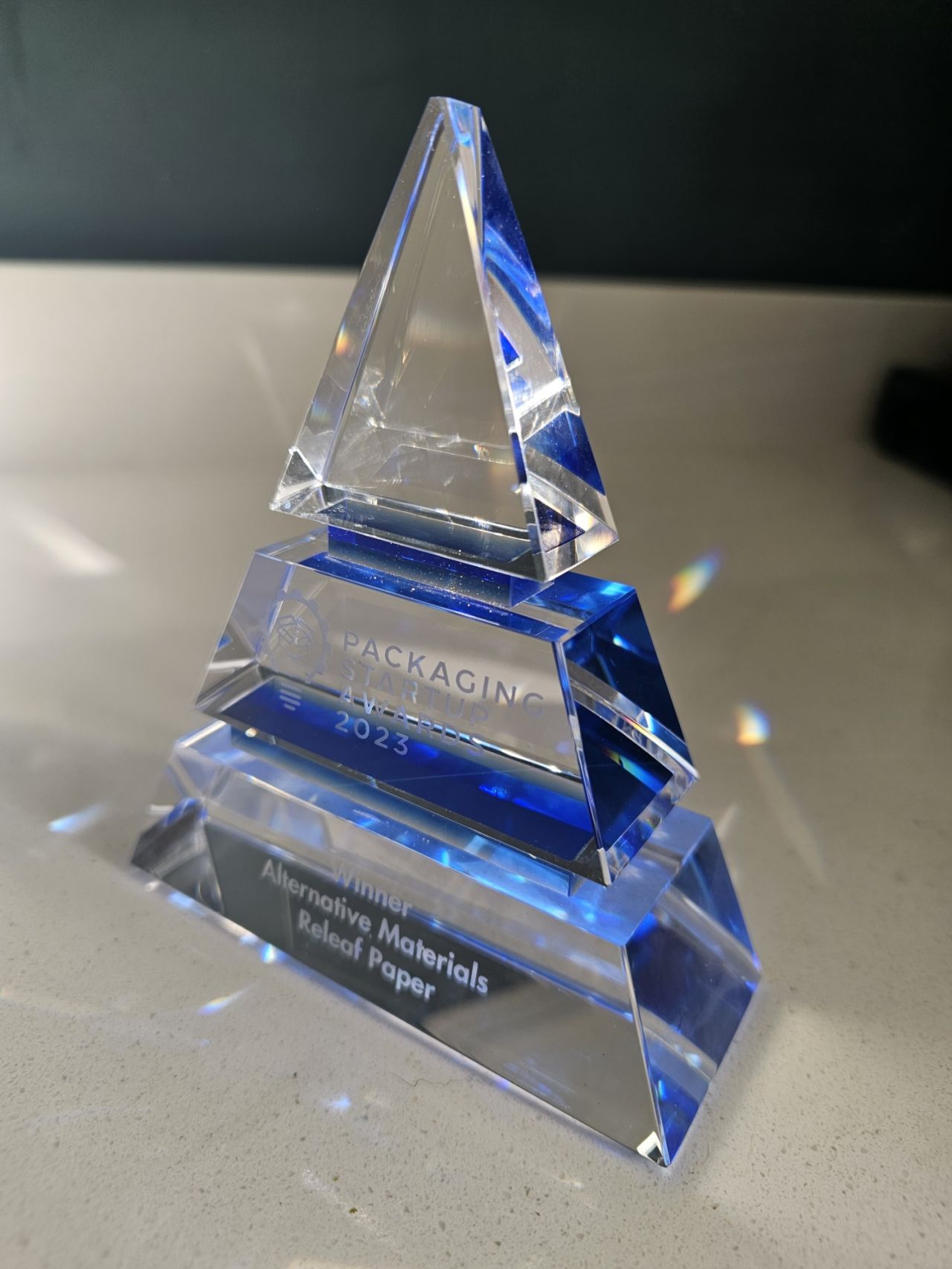 Recyclable and home-compostable, The Good Cup paper cup, created by Hong Kong-based Choose Planet A, eliminates traditional plastic lids in a clever one-piece, fold-over design, and landed the award for Increased Functionality.
Bulkify Limited (Moree) triumphed in the Online category, and ecoMLR Limited's recyclable insulated packaging range, where the consumer simply puts the bag in the home paper waste stream, came out on top in the Waste Reduction category.
After picking up the award for Refill & Reuse, Dizzie Founder Ben Patten said: "It's not been easy making a mark on the world of packaging, but our recent awards have provided great validation for what Dizzie has so far built and where we're going. It's also provided a brief moment to reflect on all the hard work that's gone in and our success so far."
"Startups are the ones at the coalface and are trying things others wouldn't consider doing," added Jenkins. "They're really pushing the envelope, and sometimes they don't get it right, and while experience says that won't work – sometimes it does. Some of the displays here are incredible.
"Flexi-Hex won an Environmental Packaging Award a few years ago, and I was on the panel for that. Since they won that award, they have gone from strength to strength. Every week, I see a different launch in a new market, and they've extended their range. Flexi-Hex is a very good example of a business that was a startup with a really good product that works as a good alternative to the product it's replacing, and they are no longer a startup, with a stand here and is going from strength to strength."
Jenkins, who has attended every Easfairs packaging exhibition for the past 11 years, was quick to praise the two-day exhibition's role in corralling hundreds of industry leaders, including suppliers, designers, packaging developers, marketers, founders, and buyers, as they gather to fuel their innovation and creativity.
"I always ask people if they enjoy the show and 'What are you here to see?' And quite often, people are here to get ideas and take inspiration. They are innovators and developers looking at things and thinking, 'They're doing that; can we do something similar?'. It's very much a research piece for many visitors and also a fantastic opportunity to take the temperature and see where they are in the market. It's a perfect way to see lots of different packs, innovations and new companies and customers in one place simultaneously."